This instrument is supervised by: Peter Eaton; Please contact Peter for any enquiries regarding access to the lab, or training or use of the instruments. Email: This email address is being protected from spambots. You need JavaScript enabled to view it.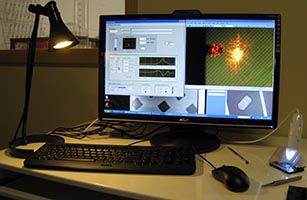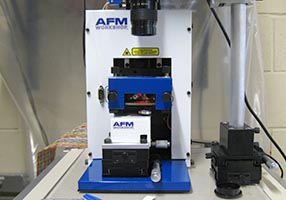 Instrument #1: Long Beach
This instrument is a modified TT-AFM from AFM Workshop.
It is equipped with two scanners, enabling large (low resolution ) or small (high resolution) scanners. It has an experimental liquid cell for in-situ measurements.
Here are more detailed specifications:
Instrument Configuration: Optical lever - based sample-scanning AFM
Sample Size: Maxmium ca. 20x20x5 mm
Imaging Modes: vibrating (tapping), non-vibrating (contact), phase imaging, lateral force microscopy (friction force microscopy)

*

Imaging Environment: Air or Liquid

*

(experimental).
Z-translation: Vertical direct drive (1micron resolution)
XY Translation: Manual
Video Optical Microscope: Zoom to 400X, 3 micron resolution (3M pixel camera)
Scan Range: 70x70x17 microns or 20x20x7 microns
Linearisation: All axes (x, y and z) with strain guages, can be turned off for enhanced signal to noise ratio.
Z noise level: less than 0.2 Angstrom
Vibration isolation: Passive vibration isolation, with acoustic shielding
*These features are not yet tested.
Instrument #2: San Diego
This is a Life Sciences AFM (model B) from AFM Workshop. It is a probe-scanning AFM with maximum 50 micron scan range. it is mounted on an inverted optical microscope, equipped for brightfield, phase, and fluorescence microscopy. We have both air and liquid scanning-capable probe holders. It is typically used for cell studies and other transparent samples.
Booking Schedules and Calendars:
TT-AFM - Long Beach
LS-AFM -San Diego



Example Images
Here are just a few example images measured with the TT-AFM instrument on a variety of samples.
More images can be found in the LS-AFM image gallery and the TT-AFM image gallery.


TT-AFM Protocols
Scanning in contact "non-vibrating" mode
Opening files: We recommend using Gwyddion version 2.22 or later.
These protocols may be outdated, meanwhile, here is a link to the latest version of the protocols document for use of "Long Beach": TTAFM_protocols.pdf


Troubleshooting
There is a Google Docs file I have created which contains the solutions to some problems that might crop up using the TT-AFM. This could also apply to other TT-AFM instruments. You can reach it (for viewing) via this link: TT-AFM troubleshooting. If you have something to add to the document, and wish to contribute, just email me (This email address is being protected from spambots. You need JavaScript enabled to view it.) for access.