This instrument is supervised by: Peter Eaton, contact: This email address is being protected from spambots. You need JavaScript enabled to view it.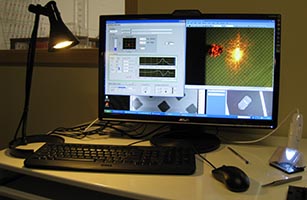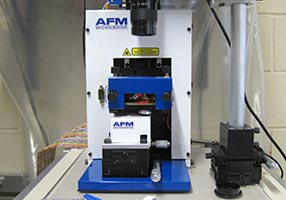 Instrument Information
This instrument is a modified TT-AFM from AFM Workshop.
It is equipped with two scanners, enabling large (low resolution ) or small (high resolution) scanners. It has an experimental liquid cell for in-situ measurements.
Here are more detailed specifications:
Instrument Configuration: Light lever (optical lever) - based sample-scanning AFM
Sample Sizes:ca. 13x13x5 mm
Imaging Modes: vibrating (tapping), non-vibrating (contact), phase imaging, lateral force microscopy (friction force microscopy)

*

Imaging Environment: Air or Liquid

*

(experimental).
Z-translation: Vertical direct drive (1micron resolution)
XY Translation: manual micrometers
Video Optical Microscope: Zoom to 400X, 3 micron resolution (3M pixel camera)
Scan Range: 70x70x17 microns or 20x20x7 microns
Linearisation: All axes (x, y and z) with strain gauges, which can be turned off for enhanced signal to noise ratio.
Z noise level: less than 0.2 Angstrom
Vibration isolation: compact passive vibration isolation

*These features are not yet tested.
Booking Schedule and Calendar:
Phase image of E. coli
Many E. coli
Amplitude E. coli

Silicon grid showing
linearity

Phase image of
spores
Cell growing from
spores - 3D
Leishmania cell
Epithelial cell


Protocols
Scanning in contact "non-vibrating" mode
Opening files: We recommend using Gwyddion version 2.22 or later.
These protocols are currently in development, meanwhile, here is a link to the latest version of the protocols word document for use of "Long Beach": TTAFM_protocols.doc