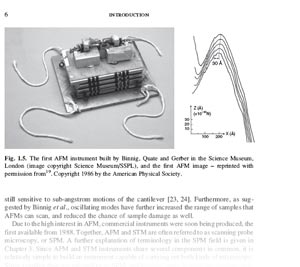 There is a freely-downloadable
.pdf (4.8 MB file)
of chapter 1 of my book, "Atomic Force Microscopy" available on the
OUP web site
. This has the preface and the whole of chapter 1.
This chapter contains background to AFM, and describes a few of the capabilities of the technique It explains how the technique was invented, and which instruments preceded it, and why AFM was needed. It also compares AFM to other microscopy techniques. The preface also contains information of the contents of the rest of the book.
The book should be published around 25th of March, pretty soon now!
Details

Hits: 11054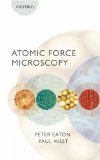 Atomic Force Microscopy is now available to order from Amazon in the UK, see the link below.The book will arrive at amazon.com with some delay, since the shipping from the UK to the U.S. takes a while. You can also order from OUP direct,
here
.
This book is perfect for an introduction to AFM for new users, and I highly recommend it to researchers using the technique. It has lots of practical information on how to obtain AFM images, and also how to analyse and process the data. it also has an entire chapter devoted to what can go wrong with AFM, and how to avoid these problems! I believe it would also make an excellent coursebook, and some chapter quizzes will appear on this website soon. The quiz on the first chapter is already available here.
Click here to see Atomic Force Microscopy at Amazon.co.uk.
Details

Hits: 10915
Follow user "afmhelp" on Twitter, or click the badge on the right in order to see all the latest updates to this website. Links to other materials of interest about Atomic Force Microscopy will also be posted.
Details

Hits: 7712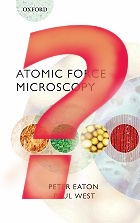 I am adding quizzes based on each chapter, to enable a self-test check after you've read it, or to help in using the book in a course.

The first quiz was a short one based on Chapter 1. Here's the quiz for chapter 2. Chapter 2 is all about AFM instruments. It describes how they are built, and why they are built that way. It details the function of each component in an AFM, and also describe AFM probes in detail. There are section on the AFM, stage, electronics, software, cantilevers and probes, the instrument environment, and the sample cell. This chapter is useful if you use AFM, since you can use the instrument better when you know how it works.


Chapter 2
Short Questions
Details

Hits: 17565
I am adding some new entries to the AFM FAQ. Here they are below. To get the answer to your question, contact me with the contact page.
Sandhya asks:
Can you please tell me about feed back control. I found it difficult to understand Proportional control, gain and band
and integral gain. From your FAQ AFM, I understand that set point is force
applied on sample by tip.
A: This is a very common question when people start to use AFM. Most AFMs use a PI controller. This is a kind of simplified PID controller. To control the feedback circuits, you change the P and I values. P stands for proportional and I for Integral. However, commonly in the AFM software they are referred to simply as P and I. To understand what these really mean, look at
PID controllers on wikipedia
, or look at chapter 3. In some instruments, D (derivative) may also be available.
Details

Hits: 21036
Subcategories