My group recently published a paper in the journal Ultramicroscopy reporting on direct comparison we made between different techniques that can be used to characterise the size of nanoparticles.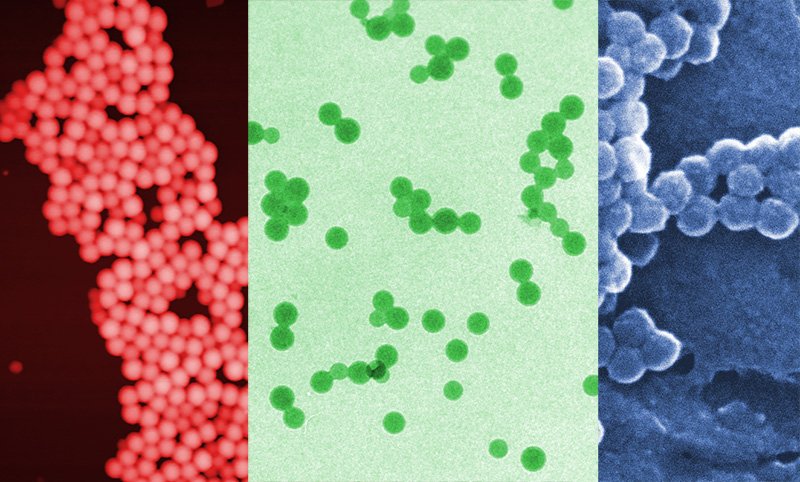 There are a wide variety of technique available to make these kind of measurements nowadays, however, microscopy is often used, because it is a direct technique (some other techniques measure properties related to size), and because it's also possible to measure shape at the same time. The size of nanoparticles is extremely important for their properties, and ideally a technique to measure nanoparticle size will have sub-nanometer resolution.
Apart from microscopy, light-scattering techniques are probably the most common techniques used. The methods of Dynamic light scattering , or DLS; is extremely popular and used in thousands of labs worldwide. A newer method based on laser light scattering, called nanoparticle tracking analysis, or NTA, is currently growing in popularity.
In our project, we prepared nine samples; these we made up of nanoparticles composed of three different, and commonly used materials, a metal, an oxide (silica), and a polymer. We examined each materials in two different sizes, and also tested the ability of each method to distinguish between different populations in mixed samples.
We found that unfortunately we were unable to use NTA for our samples  THis technique is very sensitive to sample colloidal stability, and was not able to obtain reasonable results with all our samples.
Transmission electron microscopy (TEM), scanning electron microscopy (SEM), and DLS. With all methods, we were able to obtain size values for all samples.
However, we found for SEM, that some samples had to be coated to give decent results. Even with coating, SEM gave the lowest precision of the three microscopy methods, when characterising smaller nanoparticles.
Both AFM and TEM had very high precision, and AFM gave the most satisfactory results in separating mixtures of materials. AFM also has the advantage of characterising any type of material, giving high contrast even on soft, organic materials. On the other hand, AFM can be slower than the other two microscopy methods, when measuring large numbers of nanoparticles.
As for DLS, we found that it was very poor at separating mixtures, and had much lower precision levels than any of the microscopy methods. On the other hand, since it measures solutions, rather than dried samples, it can give an idea of the dynamic behaviour of the particles in solution.
For more details, download the paper HERE, or HERE.
Details

Hits: 987
Every year in our AFM training course, we hold a little competition among the students to produce and process an AFM image. The prize is always a liquid product from the city of Porto!
This year, the overall prize was won by this nice treatment of human red blood cells sent in by Akmaral.
| | | |
| --- | --- | --- |
|   | Human erythrocytes, processed and submitted by Akmaral Suleimenova |   |
|   |   |   |
Thanks to Christie for donating the blood!
In addition, this year, we have a special prize for "outstanding image processing", which goes to Tobias for this unusual image presentation: I can only show you a photo of the image, as he 3D-printed the AFM image of 90nm nanoparticles. Great one, Tobias!
| | | |
| --- | --- | --- |
|            | 3D printed image of Nanoparticles from Tobias Burger |   |
|   |   |   |
Congratulations to Akmaral and Tobias, your prizes and certificates will be with you soon!
Thanks to everyone who entered the competition this year. Hope to see you again!
Details

Hits: 510
Bart showing his results

Our atomic force microscopy training course for 2017 ran in April, between the 10th and the 13th. Once again, the course was a great success, and all the places were filled. In this post, I quote some of the the feedback we got from some of me of the attendees, as well as some of the images they produced. In this edition, the highlight (for me) was the talk from Prof. Bart Hoogenboom, from UCL.
Bart demonstrated some amazing results in AFM, and gave some real inspiration as to what AFM can achieve.


Phase image of E. coli cells
Once again, we had a good mix of students. They came from Wales, Portugal, Switzerland, the Netherlands, and Germany. We had PhD students, AFM technicians, lecturers, post-doctoral fellows and industrial researchers. It's always great to have such a wide range of opinions and nationalities!

As usual, we began with the basics of AFM, including instrumentation, modes, and fundamental concepts. Then the more fun parts, how to prepare samples, tips and tricks for running the instruments, and how to process and analyse the data.Most of the students prepared samples, and they all ran the instruments and processed and analysed image files. Based on the feed back, the students thought the course very worthwhile.
"I liked the course a lot. I think it's well-adapted to people with no AFM experience, and it seems it works well also for experienced users"
| | |
| --- | --- |
| On the last day, we had a great invited talk from Filomena Carvalho from IMM, talking about force spectroscopy and nanoindentation measurements in biomedical applications. A new addition to this edition was  that we demonstrated force-spectroscopy, and one user was able to scan a sample she brought. | |
"
I 
enjoyed
 it very much and I will recommend it to my colleagues."
As usual, a highlight was our trip to see the beautiful view over the river Douro and sample the food and wine at Taylor's Port Lodge. We were also lucky with some great hot sunny spring days, and I heard some of our visitors even made it to the beach! A special thank-you this year to Christie for the fantastic poster design, as well and photography (and videography!), and to Maria and Ana for the very professional organisation.
Students learning to use the AFM
 

"

Organisation was excellent and very friendly, to me it represented very good value for money, timetable was relaxed and enjoyable. Porto and the university are a beautiful location."
 Christie even helped my students to run the AFM, so my job was very easy this year. Hopefully this tradition will continue!

More images will appear soon when the winner of the image competition is announced...


Amplitude image of tobacco mosaic virus the students recorded
Details

Hits: 596
Does an AFM need to be have a technician responsible for it?  Or a senior scientist who can train others to use it? In many research labs, the answer seems to be "no". Or at least, there is no-one fully responsible for the AFM, who can advise on experiment design, sample preparation, and train users, or even just run users' samples. In this blog post, I'll talk about why this situation exists, and what should be done about it.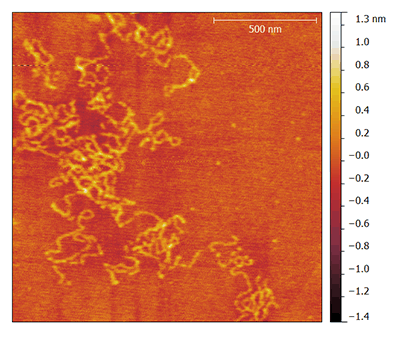 In research labs in academia, (and, to a lesser extent, also in industry), there are often two kinds of facilities, those that are operated by individual researchers, in their own projects, and those that are run either ONLY by technicians /senior scientists, or only by fully qualified researchers under the close supervision of an expert. For example, in chemistry, a common instrument that is usually left to researchers (such as students) to run by themselves, is a UV/visible spectrometer. This is a pretty simple instrument, that is kind of a "black box", which requires minimal training to use correctly.This is not to say that some things cannot go wrong, but an occasional prod in the right direction is all that's required. Typically, if any-one is responsible for the instrument, they often just change the bulb now and again. More complex instruments are often run the same way, up to optical microscopes. But this is not the same for nanometre-resolution microscope, right?
Electron microscopes are *rarely* solely user-operated. They nearly always have a technician responsible, who might be the only one to use the microscope at all. When I began to use electron microscopes, it was clear that I was not going to get my hands on the instrument, until after a very thorough training lasting several weeks, and costing a lot of money. After this, I used the instrument for a long period of supervised operation, before finally being considered independent. This makes sense, for several reasons:
Electron microscopes are complex, with many controls you need to learn

They are easy to misalign, or even damage

They usually need careful sample preparation

The data from them can need careful interpretation

Electron microscopes are (usually) big and expensive instruments
So, what about the AFM? Doesn't all this hold true for an AFM?
Surprisingly, there are many many cases where AFM instruments do not have a responsible user, let alone a technician. In the AFM training course I teach, something like 50% of the people who need training say there's an AFM in the lab and no-one knows how to use it.
There are many AFM instruments sitting in lab corners, barely if ever used, or used only by un-trained students.
So, why is this? All those bullets points up there kinda hold true for AFM, don't they? I think they mostly do, but I think the difference is in the last part.
An AFM can be a low-cost instrument! And an AFM might be very small indeed...which will often lead to the erroneous idea that it's a simple instrument to use. Is AFM more difficult than electron microscopy? I don't think so, but most electron microscopists seem to think so. Then again, perhaps this is because they've never been trained properly in use of an AFM.
Let's look at cost; here's a rough idea of what it costs to get an instrument with 1 nm resolution:
| | | |
| --- | --- | --- |
| TEM | SEM | AFM |
| around 1,000,000 USD | around 400,000 USD | 40,000 to 100,000 USD |
NOTE: These are "typical purchase costs", and any of them might costs more or less than this, but not by an order of magnitude….
Now, these 3 instruments would not be the same, and I am not saying a 40,000 dollar AFM can do everything a million dollar electron microscope can do, but with these three instruments, you can achieve around 1 nm resolution. To explain what you can really do with them could make another looong blog post...
But, wow, it's a big difference, isn't it? Add to this the fact that a TEM takes up an entire room to itself, and may even need the ceilings raised to fit in (and it usually won't fit through your door, either!), and you can start to see why sometimes people take the TEM or SEM more "seriously"...If you have to raise a million dollars in funding to buy a microscope, you are going to make damn well sure that a: It's not broken by incompetent users, and b), that you get some money back to keep it going by selling services.
So there we have our poor little AFM, it's the new kid on the block, electron microscopists don't understand it, and no-one ever gets properly trained. Some AFMs are actually installed by technicians who don't know how to used it.
So what can you do?
TRAIN your USERS!

MAINTAIN the KNOWLEDGE!

keep GOOD staff!
All of these are difficult, but check out our training courses here: http://afmhelp.com/course
I would be interested to hear what other people think about this, it's something I've been telling people a long time, and no-one has contradicted me (audibly) yet! Do people out there who can use  AFMs and EMs think one is more difficult than the other? Modern electron microscopes are also highly automated, partially due to more mature technology, and partly, I guess, to justify their high costs!
What do you think?
Incidentally, if you need an AFM expert in your lab after reading this, I am looking for a job! Check out my CV here! ;-)
Pete.
Details

Hits: 500
The Porto AFM Workshop 2017 has been announced. This is our fifth course!
The course will run from the 10th to 13th April. This is a training workshop, aimed at any researcher or scientist, who wants to learn about AFM, or increase their knowledge of the technique. Following the successful courses that have run since 2011, the course will includes several hours hands-on training in acquiring images with the atomic force microscope as well as AFM data processing.
UPDATES:
This year, we are pleased to welcome back Filomena Carvalho from IMM, Lisbon, who will talk about Force Spectroscopy: Biological and Biomedical Applications.
We also will have  a lecture from Prof. Bart Hoogenboom, from University College London. Bart was the winner of the Royal microscopical Society's SPM Medal for 2017 for his outstanding contributions to AFM. Bart will give a talk entitled: "Drilling holes: Visualising pore forming proteins in action".
All places on the course are now filled.
Please click the image below to download the flyer with more details.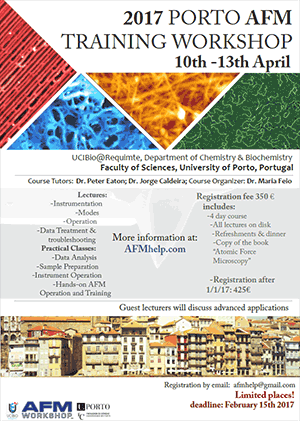 A blog with information and student feedback from the previous courses can be seen here: 2014 course, Requimte AFM Workshop 2013
 Some information about the course that took place in 2011 can be seen here: http://atomicforceblog.blogspot.com/2011/09/2011-requimte-afm-mini-course.html
---
The course is supported by AFMWorkshop, The Faculty of Sciences of The University of Porto and my research institution, UCIBIO. Thanks to Krystallenia Batziou for poster design.
Details

Hits: 2726
Subcategories