TT-AFM noise floor measurement
1. Place a clean silicon calibration sample on the scanner.
2. Place a new probe in the instrument.
3. For this comparison, use vibrating mode. Setup the optical alignment and Tune frequency as normal.
4. Select parameters to test are listed below. note that for a fair comparison, you can use parameters relevant to your typical measurements. The parameters described here, will give you an "ideal" value, i.e the best result possible.
Suggested parameters

Parameter

Suggested value

X Gain %

0

Y Gain %

0

XY HV Gain

Initially 1 (note it should be 0 for the actual measurement)

Z HV Gain

1

Image Add

Off

Z Feedback values

Values you typically use, for example Gain 1.5, Proportional 150, Integral 1500

Lines

128

speed

1 Hz

Left Image

Z_DRIVE

Samples/Pixel

25
Note that you can use any different parameters you like for this, and they can and will alter the results that you get. Also, the instrument should be properly calibrated in z to allow comparison with any other values. Be aware that tip approach with Z HV gain at 1 will be very slow, and some post-approach adjustments might be necessary.(i.e Jog Down).
5. Go into feedback, and scan an image of a small area of the surface (XY HV Gain of 1). The image should be clean, with very few features visible. Ensure you end the scan with the probe on a flat part of the sample.
6. Withdraw probe.
7. Set scan size to 0, by using XY HV Gain = 0.
8. Approach surface again.
NOTE: It is important that you go into feedback on the surface in the same way as you did when you scanned an image. If you go into false feedback (probe almost but not quite, on the surface), you will not make a valid noise floor measurement.
9. Scan another image. No sample features should appear, as scan size is zero. The image may look something like the image below, or have some regular patterns in it.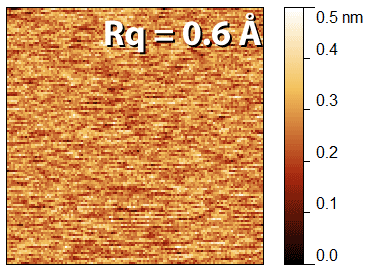 10. Save the file, and open the Left image - z piezo drive file (height image) in gwyddion.
11. Apply a 1st order polynomial levelling (fit linear).
12. Use "Statistical Quantities" and record the RMS average roughness (Sq). This is the noise floor
You should get a value of <1 Angstrom (gwyddion may report this as <100 pm).

If you do not get a satisfactory value, try removing sources of external vibration (other machinery, acoustic noise, unnecessary cables) from the instrument. Ensure probe and sample are grounded. Ensure vibration isolation system is being used properly.

Typical values found in a TT-AFM in an acoustically shielding box, with bungee-cord type isolation, in vibrating mode would be 0.3 to 0.5 Angstrom.

You should be able to achieve at least the value specified by AFM workshop on the instrument spec. sheet which was delivered with your instrument.
---
All materials on this website are copyright 2010-2014 Peter Eaton.
Details

Hits: 8575
The 2014 Requimte AFM workshop was held during Easter week, 14th to the 17th of April. The course keeps on growing, and this year we had 15 students attend. Once again, they came from far and wide for the course, and it was great to meet them all. It seems this course really fills a worldwide need, because we had students fly from as far as Malaysia and Washington DC to attend. The other students came from the Czech Republic (lots of them!), Germany, Spain, Portugal, the Netherlands and Poland.
Details

Hits: 6018
UPDATE: The site has been upgraded to new back-end code. This should help stability and enable new features in the future. Hopefully all the old pages are working now on the new code. If you see any problems, let me know!
The design of the site was changed a little, it looks kind of plain now, maybe I'll revert to the old look later. 
There is now a new AFM Image Gallery, which contains more images than before, organised in categories and a few by instrument.
Details

Hits: 3007
I have this poster up in the AFM lab here. I made it to save me drawing out how AFMs work everytime I need to explain it to new students or visitors! I saw someone photographing it the other day, so I though I'd make it available here. Click the image below to get the .pdf of the full poster.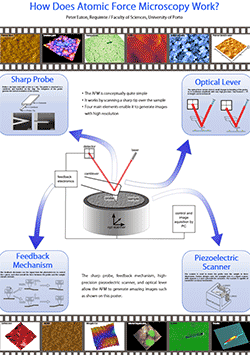 ---
 If you print this out and put in your own lab, please send me a photo of the lab! If you do want to print it, you can always This email address is being protected from spambots. You need JavaScript enabled to view it. for a higher-resolution version! The images in this poster are all my own work, and cannot be reproduced except for the purposes described here. UPDATE: Pleased to see the poster in situ in Edward Basgall's microscopy lab at Drexel University in Philadelphia, Thanks, Ed! See below.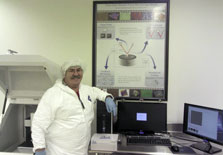 Details

Hits: 6200
Many people have asked me for a copy of this simple figure, showing how the AFM works. It's available for download below as a high quality .ppt file.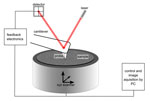 Please note the image is copyright 2010 Peter Eaton, and permission is given only for academic and educational use, excluding publishing. Please contact me if you want to use any other images on this website.
Details

Hits: 5677
Subcategories