The 2014 Requimte AFM workshop was held during Easter week, 14th to the 17th of April. The course keeps on growing, and this year we had 15 students attend. Once again, they came from far and wide for the course, and it was great to meet them all. It seems this course really fills a worldwide need, because we had students fly from as far as Malaysia and Washington DC to attend. The other students came from the Czech Republic (lots of them!), Germany, Spain, Portugal, the Netherlands and Poland.
Details

Hits: 5553
I have this poster up in the AFM lab here. I made it to save me drawing out how AFMs work everytime I need to explain it to new students or visitors! I saw someone photographing it the other day, so I though I'd make it available here. Click the image below to get the .pdf of the full poster.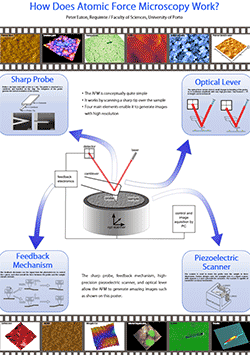 ---
 If you print this out and put in your own lab, please send me a photo of the lab! If you do want to print it, you can always This email address is being protected from spambots. You need JavaScript enabled to view it. for a higher-resolution version! The images in this poster are all my own work, and cannot be reproduced except for the purposes described here. UPDATE: Pleased to see the poster in situ in Edward Basgall's microscopy lab at Drexel University in Philadelphia, Thanks, Ed! See below.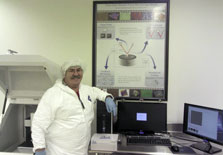 Details

Hits: 5531
Many people have asked me for a copy of this simple figure, showing how the AFM works. It's available for download below as a high quality .ppt file.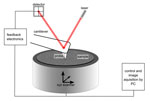 Please note the image is copyright 2010 Peter Eaton, and permission is given only for academic and educational use, excluding publishing. Please contact me if you want to use any other images on this website.
Details

Hits: 5219
UPDATE: The site has been upgraded to new back-end code. This should help stability and enable new features in the future. Hopefully all the old pages are working now on the new code. If you see any problems, let me know!
The design of the site was changed a little, it looks kind of plain now, maybe I'll revert to the old look later. 
There is now a new AFM Image Gallery, which contains more images than before, organised in categories and a few by instrument.
Details

Hits: 2697
The deadline for our 2015 AFM training workshop has passed, and we cannot take any more registrations. If you want to be informed when the next course is announced, email me. For more details about the courses click here, or download the flyer below.
Details

Hits: 4734
Subcategories