One of the most important components of an AFM is the probe. AFM probes are made of a chip or substrate, a cantilever, and a tip. Usually, these are manufactured in one piece of silicon (or silicon nitride, Si3N4), by MEMS manufacturing techniques. In this way a wafer (with 400 or more probes) is manufactured at one time, with reasonable reproducibility of probe characteristics across the probes.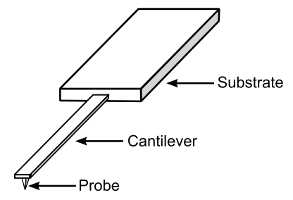 Design of typical AFM probe, showing the substrate, cantilever and tip (probe).
Importantly, nearly all probes are interchangeable, so it's possible to use probes from different manufacturers in your instrument. Thus, there is a fairly competitive market in AFM probes, and you can find a variety of probes from value to high-cost offerings, and an enormous range of probes, with different coatings, and physical properties, suitable for a wide range of applications. There are so many different probes here, that it's not worth listing them all, so this page just links to the manufacturers of probes that I know of. Some companies resell probes from other manufacturers,such distributors are listed on this page. But here I list only the manufacturers. The manufacturers are listed in no particular order.
AFM Probe Manufacturers
Bruker

Bruker (until recently Veeco) manufacture a huge range of probes, as well as reselling probes from various other producers. They have many representatives, as well as selling direct in the U.S.

Applied NanoStructures

AppNano manufacture a wide range of standard and speciality probes- they are resold by various companies, and also sell direct

Nanoworld

Nanoworld manufacture a very large range of standard and speciality probes - resold by various companies. Also branded as nanosensors

Mikromasch

Mikromasch manufacture a very wide range of probes, both standard and speciality. They sell direct and are re-sold

NT-MDT

www.ntmdt-tips.com
NT-MDT manufacture many standard and specialty probes, including with a wide range of coatings

Olympus

Olympus m

anufacture many "standard" and novel probes, including the biolever-often used for force spectroscopy. They do not sell their own probes, but they are sold by a large number of companies

Artech Carbon

Artech Carbon make single-crystal diamond porbes, which are very sharp and wear-resistant. 

Team Nanotec

Team Nanotec make a variety of specialist AFM probes, including metrology tips, high-aspect ratio probes, MFM probes, etc. They both sell direct and are re-sold

Asylum Research

Asylum make various speciality probes of their own design, as well as reselling various other brands. Asylum are now part of Oxford Instruments

Micro2Nano

www.micro2nano.com
Korean company, Micro2Nano manufacture tetra brand probes which are resold, and offer a custom probe service

Budget Sensors

budgetsensors.com
Budget Sensors manufacture a wide range of probes, including mix-and-match boxes. They have an online shop, and are resold

sQube

sQube manufacture a range of colloidal probe cantilevers, check their webpage for link to distributor

Kelvin Nanotechnologies

www.kelvinnanotechnology.com
Based on the campus of Glasgow University, Kelvin Nanotechnologies manufacture scanning thermal probes

NaugaNeedles

Nauganeedles produce specialised probes with semiconductor nanowires grown from the end, useful for metrology and electrical applications

NuNano

Nunano is a Bristol (UK)-based startup specialising in SPM probe manufacture. Offer custom probe design.

Carbon Design Innovations

CDI manufacture AFM probes modified with carbon nanotubes on the tip

Smart Tip

www.smarttip.nl
Based in the Netherlands, Smart Tip make specialised probes, such as magnetic MFM probes

Novascan

Company that specialises in colloid probes and chemically modified probes

SCL-Sensor Tech.

Company that specialises in self-sensing and self-actuating probes
Once again, distributors can be found here.
If I any have missed any manufacturers ,or made any other errors, please feel free to make suggestions, via the contact page.
Details

Hits: 38099
This page has a list of corrections to the book "Atomic Force Microscopy".  If you notice any more mistakes, please let me know here. That way I can correct them in the next edition!
Important Note: All these errors will be corrected in the upcoming paperback edition. If you know of any more, let me know! 
Errors
Page 30 - Equation 2.6: Verr is used in place of Zerr in the first term.
Page 38 - The last paragraph erroneously refers to equations 2.5, 2.6 and 2.7, where it should be 2.7, 2.8 and 2.9, respectively.
page 53 - referring to the figure shown below:
In this figure, vertical bending is detected as "(A+B)-(C+D)", i.e. the difference of the top two and bottom two segments. On page 53 the book erroneously says "(A+B)-(C-D)".
Page 56 - Figure 3.6 Should read: "B-intermittent contact oscillation (large)".
Page 66 - Legend refers to colours in the image where there are none.
Page 114 - Section 5.2.4: Three-dimensional views. Should read: "...special glasses to differentiate the left eye's and right eye's views...".
Page 116 - Table 5.2. The Formula for skewness is incorect. The exponents should be 3, not 4. i.e., as shown below

Page 164 - Misspelling of "fimbriae" as "fibriae".
Thanks very much to everyone who informed me of these errors!
Details

Hits: 9261
Frequently Asked Questions about Atomic Force Microscopy
by Peter Eaton

This FAQ was originally created for clients of the AFM, i.e. those whose samples I scan.
However, it's grown a lot, and should also answer many questions of people planning to use the AFM themselves, or researching the technique. Its contents include a description of AFM suitability to various samples, sample preparation, tips for scanning and data processing, and a short bibliography. There is also a guide to recognising artifacts in AFM.
All the material here is discussed in greater detail in the book "Atomic Force Microscopy".
Details

Hits: 117623
Afmhelp.com has just been published, it does not have much content right now, but it's coming soon.
The website will launch towards the end of 2009, for more information see "About AFMHelp.com".
Details

Hits: 5752
About AFMHelp.com
  This site is designed to offer help with atomic force microscopy (AFM). AFM is an amazing and powerful technique for measuring images, and making other measurements of a wide range of samples. However, it can be rather daunting to use, especially for the beginner. On this website, as well as in the accompanying book we've collected a lot of information that explains how AFM works, and howto use AFM, and to process and analyse the images.
There's a lot of information about AFM all over this website,  but for an overview, take a look at the AFM: Beginner's Guide page, and for frequently asked questions check out the AFM FAQ.
Details

Hits: 43241
Subcategories