The Requimte AFM Training Workshop will run during Easter 2014, from the 14th to 17th April. Following the successful courses that ran in 2011 and 2013, we've decided the course should run annually. The course includes several hours hands-on training in acquiring images with the atomic force microscope as well as AFM data processing. The course has been reorganised based on student feedback, and will feature advanced topics lectures from guest scientists in biology and materials science. This year, we plan to lengthen the practical part of the course, and hope to offer access to different instruments.
  UPDATES:
We are pleased to announce that this year, there will be 3 invited speakers, covering applications in a wide range of areas, and illustrating different capabilities of AFM:
Dr. Rui Rocha, CEMUP, Porto: "Materials Applications of AFM"
Dr. Simon Connell, University of Leeds, UK: "Dynamics in Biological AFM"
Dr. Filomena Carvalho, IMM, University of Lisbon, "Force Spectroscopy: Biological and Biomedical Applications"
Thanks to all the speakers for agreeing to talk.
The provisional timetable can be downloaded here.
There is a document containing in formation on travel to Porto, and hotels near the faculty of sciences here.
The 2014 course has had all 16 places filled.
The course flyer can be seen by clicking below: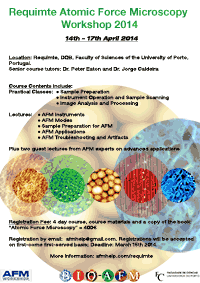 A blog with information and student feedback from the 2013 course can be seen here: Requimte AFM Workshop 2013
 Some information about the course that took place in 2011 can be seen here: http://atomicforceblog.blogspot.com/2011/09/2011-requimte-afm-mini-course.html
The course is sponsored by AFMWorkshop. It is also supported by The University of Porto, and will be integrated into the forthcoming network BIO-AFM.
Details

Hits: 16945
This page contains currently a very small selection of the AFM images I have collected over the years. Please check back later to see more.
Nanospheres monolayer

This image Shows polystyrene nanospheres (diameter 174 nm), packed into a well-organised monolayer

Blood Smear

This AFM height image shows a human blood smear with some erythrocytes, surrounding a neutrophil (white blood cell).

BOPP

Fibrous polymer film (Biaxially Oriented Polypropylene). 

DVD

AFM image of DVD data bits.

Mixed Nanoparticles

This AFM image shows a sample with a two populations of polystyrene nanoparticles, one large and one small.

Different species

This AFM image shows different species of bacteria.

HOPG

HOPG (Highly Oriented Pyrolytic Graphite) some single-atomic steps are visible

Silicon chip

AFM image of a silicon chip

Quantum Dots

AFM image showing quantum dots, just 2 nm in diameter!

TMV

AFM image of tobacco Mosaic Virus

Silica Nanoparticles

AFM image of 80 nm silica Nanoparticles
---
All images copyright 2010-2016, Peter Eaton, and may not be re-used without my permission
Details

Hits: 18616
"I really enjoyed my time on the course. In a simple and practical 

manner, I learned how to obtain results from AFM. I entered the course 

without ever being on the same lab with an AFM and left being able to 

carry out an experiment and analysing my own results."
Last week, we held our AFM workshop for 2013, here in Porto. We had students from Portugal, Spain, Germany, Romania, Denmark and Norway.
The students enjoyed the course a lot, and we got lots of very positive feedback.
"I have to tell you that I'm enjoying a lot this mini-course. The language used to explain the concepts is very clear and there is a good atmosphere between all participants."
This is the second time we've run the course, and the first time in Porto. Last time we ran it in Lisbon. We brought one AFM up from our lab in Lisbon, so the students had access to two instruments.
On the first day, after meeting the students, we started with a short introduction to AFM, followed by a talk about AFM instrumentation, focussing on important concepts, and the differences between different instruments the students might encounter. Some of the students were already using AFM, and some had never used it. In fact, a couple of the students were already regular AFM users, but still found the course useful: 
"I found it useful even for people (like me) having a certain experience in the field. For instance, things that work well in/with AFM can be easily found in a lot of papers, but things that are hard or tricky to set up are seldom explicitly written in articles. The workshop addressed specifically this type of issues. Also, to my opinion, attending the workshop was not expensive at all. "
Details

Hits: 8986
In our lab, we have a TT-AFM, and an LS-AFM from AFM Workshop. We had one of the very first examples of this microscope, so although it's fairly new, the instrument, and the software has developed a lot during that time. On this page, I have collected together various materials that can help use the TT-AFM instrument. Note that although this material is all based on the TT-AFM, a lot of it probably applies to the other instruments from AFM Workshop, since they are all based on the same electronics. Lots of more general information about AFM operation can be found around this website (links on the left), and of course in my book.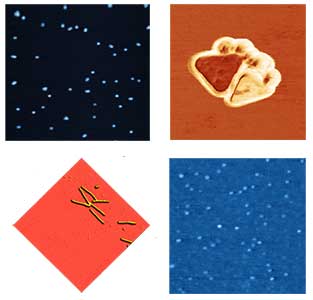 Some images from the TT-AFM obtained in our lab showing gold nanospheres, gold nanotriangles (phase image), tobacco mosaic virus, and Quantum Dots (2 nm).
 UPDATE: The latest version of the AFM Workshop software 2.03, seems to be far superior to 1.58, which I was using previously. I reccommend strongly that everyone check this version out.
Details

Hits: 17704
 The Portuguese BIO-AFM Network is a forthcoming Research Infrastructure, or RI.
If approved, the RI status means the network will be partially funded by FCT, and will provide open access to all who wish to become users of the RI.

The RI will provide training, access to instrumental techniques, advice and data analysis for all users.

This RI focusses on biological atomic force microscopy (BIO-AFM). However, use of AFM in other areas is also supported.
The network is made up of three labs, which are based in Porto, Lisbon, and Caparica, Portugal. Information on the facilities on the three labs can be found below,and in the linked pages, describing each lab.

At this time, the RI is in the application stage, and if approved will begin operations in January 2014. However, most of the components of the RI are already in operation, so if you want to be a users, consult the access requirements

here

.

Members of the management and implementation teams are experts in many different areas of biological AFM, so if you need advice, including on whether BIO-AFM can help you, just ask! You can contact us via email

This email address is being protected from spambots. You need JavaScript enabled to view it.

, or look at the contact details on the individual pages below.
The three labs are in:
| | | | |
| --- | --- | --- | --- |
| Porto |   | | Based in DQB, Requimte Porto. This lab currently houses a TT-AFM from AFMWorkshop, with high resolution facilities. specialising in NanoBio science, bacteria and parasites. |
| Lisbon |   | | Based in IMM, associated to FMUL. This lab has a Nanowizard 2 from JPK, with advanced facilities for use of live cells. Specialised in force spectroscopy and biomedical applications. |
| Caparica |   | | Based in the chemistry department, FCT-UNL. This lab houses a TT-AFM from AFMWorkshop with an experimental liquid cell for environmental work. |
Finalised regulations and conditions for access to the instruments are coming soon. In the meantime, you may consult the Draft Document. Another document contains Prices.
NEWS
The Porto lab is currently installing a new life sciences AFM, combining optical, fluorescence and AFM measurements in one instrument.

The Requimte AFM course for 2014 is now full, and will teach 16 students from Europe, Asia and the USA during Easter week.

The lisbon lab at FCT-UNL has improved the microscope with a new environmental chamber. Upgrades are ongoing.
Details

Hits: 5050
Subcategories